Cold weather continues to support natural gas, but the wide sweeping frigid conditions have not been enough of an influence to drive prices higher. Fundamental and technical factors leave little doubt that the outlook for the next several months is bearish, but for now, natural gas prices are stuck in a trading range bound between approximately $2.55 and $3.00.
Prices fell last week after the disappointing U.S. Energy Information Administration (EIA) Natural Gas Weekly Update, and a swing low of $2.641 was made on Tuesday. The $2.80 midpoint of last Thursday's candlestick held Wednesday morning, which may be an early indication that another disappointing EIA update is expected tomorrow. The $2.80 level is confluent resistance because it is also the 38 percent retracement of the decline from $3.045 to $2.641.
There are a few short term positive factors (green arrow and triangle) triggered by KaseX on the $0.05 KaseBar chart, and a close over $2.80 would open the way for key resistance at $2.90. The $2.90 level is the 62 percent retracement from $3.045 and the 0.618 projection for the wave $2.589 – 3.045 – 2.641. This is crucial, because waves that overcome the 0.618 projection typically extend to at least the 1.00 projection, in this case $3.10. We expect $2.90 to hold, but a close over this level would shift near term odds in favor of another attempt at $3.10 and higher.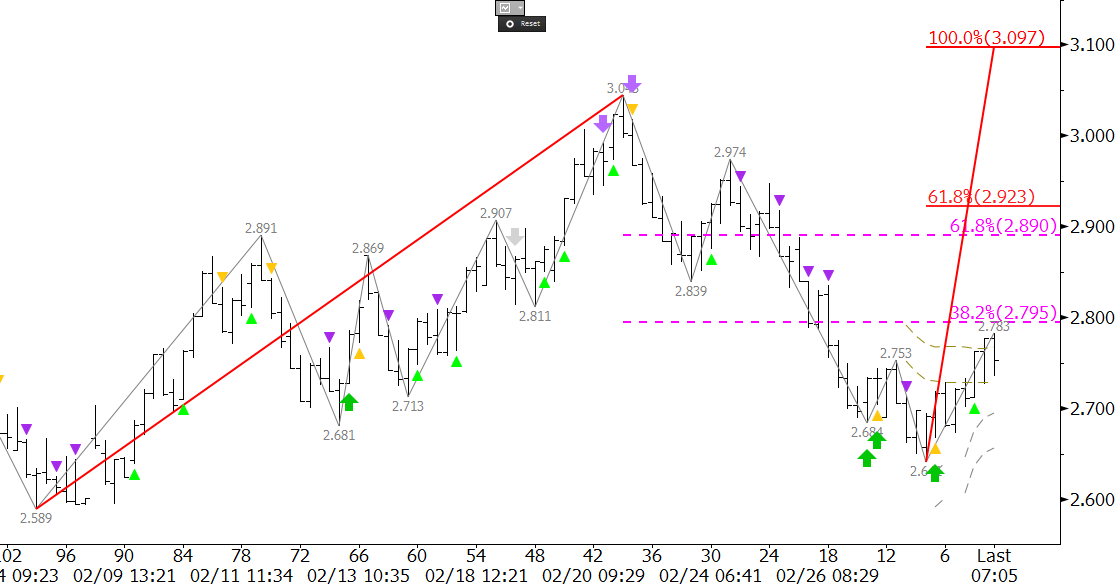 First support is $2.70, and a move below this would call for the $2.641 swing low and $2.589 contract lows to be challenged. The most important target is still $2.55, because the technical show that it is the gateway objective for a decline into the low $2s. It will likely be at least a few more weeks before prices close below $2.55.
So for now, our analysis leads us to believe that a near term test of resistance at $2.80 and possibly $2.90 will take place, but that $2.90 will hold and prices will continue to oscillate in a sideways range.
Kase Bars are available on TradeStation and Bloomberg.
Take a trial of Kase's in-depth weekly Natural Gas Forecast or of KaseX.