Gold Technical Analysis and Near-Term Outlook
Gold is trading in a narrowing range that forms a coil pattern. Coils are not exceptionally reliable patterns like flags and pennants when it comes to determining a breakout direction. However, they lean in favor of a breakout in the direction of the prior move before the coil formed, in this case, down. A breakout of the coil should take place during the next few days.
Coils reflect uncertainty, which makes this is a very tight near-term call for gold right now. Even so, odds continue to lean in favor of a break lower. Falling below $1936 will call for $1820. This is the smaller than target of the wave down from $2001.2. Settling below this will confirm a break lower out of the coil and call for a test of $1888 and likely lower.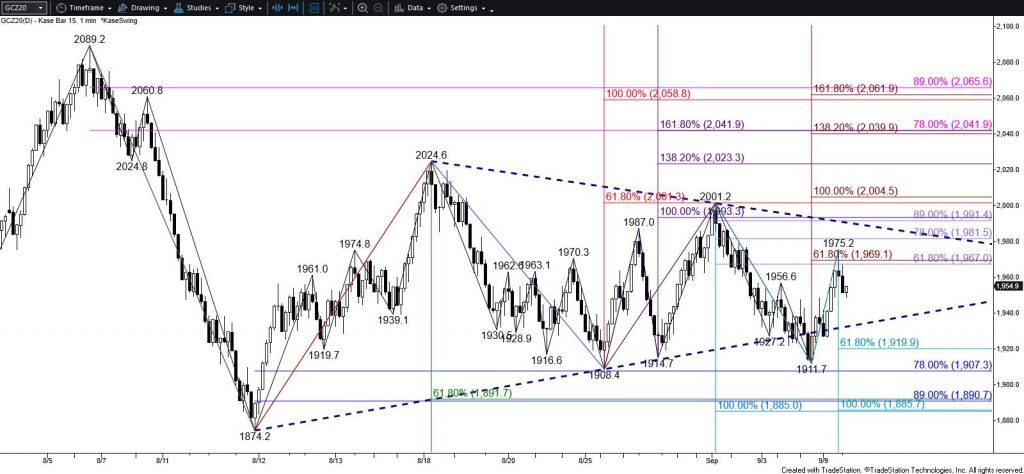 Nevertheless, gold briefly broke the coil's lower trend line on Tuesday, but since then has challenged the 62 percent retracement of the decline from $2001.2 and the smaller than (0.618) target of the wave up from $1908.4. Prices also settled above the 20-day moving average today. These factors suggest the coil's upper trend line around $1988 might be challenged before another test of support. Also, the wave up from $1908.4 calls for a test of $2002. Settling above $2002 would confirm a break higher out of the coil and clear the way for $2023 and likely $2041.
This is a brief analysis for the next day or so. Our weekly Metals Commentary and daily updates are much more detailed and thorough energy price forecasts that cover key COMEX precious metals futures contracts and LME Non-Ferrous (Base) metals, spot gold, the gold/silver ration, and gold ETFs. If you are interested in learning more, please sign up for a complimentary four-week trial