Gold Technical Analysis and Near-Term Outlook
Gold settled below the 100-day moving average for the second straight day and challenged the $1857 target as called for in yesterday's update. This confluence point is split around the smaller than (0.618) target of the wave down from $1983.8, the 89 percent retracement of the rise from $1851.0, and the intermediate (1.382) and larger than (1.618) targets of the wave down from $1939.4. This may prove to be a temporary stalling point but fulfilling the $1857 objective is bearish for gold's outlook.
Closing below $1857 will clear the way for $1841 and then the next major objective at $1810. The $1810 objective is the equal to (1.00) target of the primary wave down from $2089.2. Once met, another significant test of resistance is expected before gold falls any lower.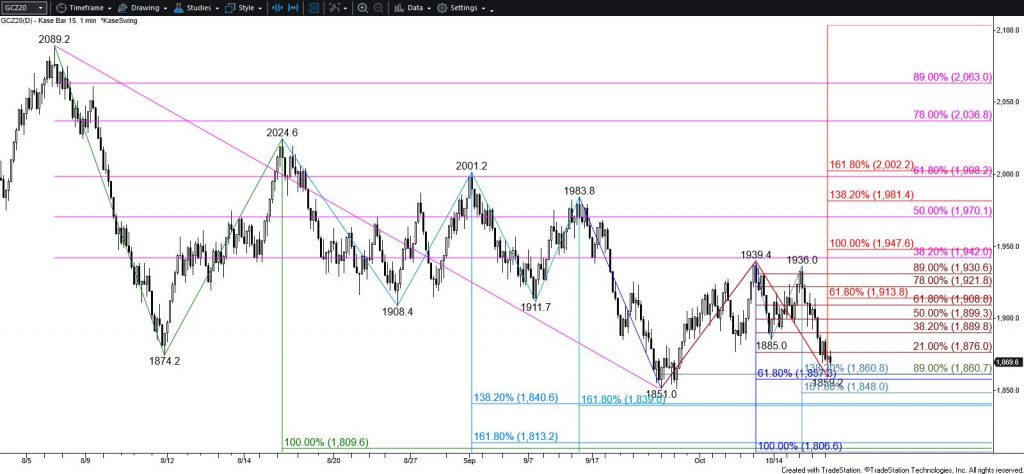 As stated, due to the confluence of $1857, a test of resistance might take place before falling to $1841 and lower. Resistance at $1893 is expected to hold and $1913 is key for the near-term. Settling above $1913, the smaller than target of the wave up from $1851.0, will shift near-term odds in favor of rising to the $1948 equal to target before the decline continues.This is a brief analysis for the next day or so. Our weekly Metals Commentary and daily updates are much more detailed and thorough energy price forecasts that cover key COMEX precious metals futures contracts and LME Non-Ferrous (Base) metals, spot gold, the gold/silver ration, and gold ETFs. If you are interested in learning more, please sign up for a complimentary four-week trial