Gold Technical Analysis and Near-Term Outlook
Gold stalled before taking out the $1868 smaller than (0.618) target of the primary wave down from $1919.2 today. The subsequent move up is now poised to rise above $1903. This is the smaller than target of the wave up from $1855.6, which then connects to $1923 as the equal to (1.00) target. Therefore, near-term odds favor a test of at least $1911, the last target protecting the $1919.2 swing high. Closing above $1911 will clear the way for $1923, which then connects to $1940 and higher.
Nevertheless, recent bearish daily candlesticks warn that the move up remains hesitant. Should gold take out $1882 look for a test of $1868 and possibly $1854. The $1854 level is crucial because it is in line with the 200-day moving average. Closing below this would open the way for $1843 and likely a deeper test of support before the move up continues.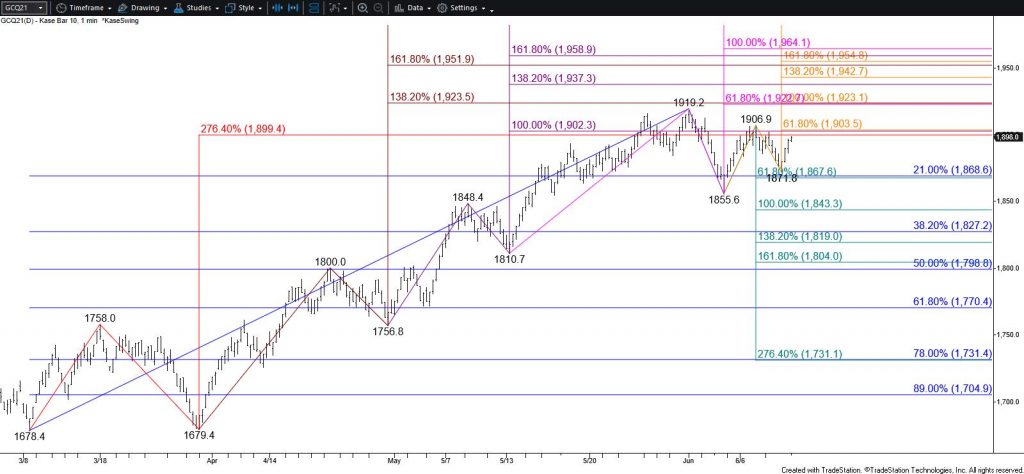 This is a brief analysis for the next day or so. Our weekly Metals Commentary and daily updates are much more detailed and thorough energy price forecasts that cover key COMEX precious metals futures contracts and LME Non-Ferrous (Base) metals, spot gold, the gold/silver ratio, and gold ETFs. If you are interested in learning more, please sign up for a complimentary four-week trial.