Natural Gas Technical Analysis and Near-Term Outlook
Natural gas fell as called for and settled just below Monday's $2.79 midpoint. This completed yesterday's shooting star and calls for a deeper test of support. Tomorrow, look for the evening star's $2.73 confirmation point to be challenged. Additionally, the waves and subwaves down from $3.005 favor a decline to $2.69. For the move up to retain a reasonable chance of extending again during the next few days, $2.69 must hold. Closing below this will call for $2.63 and possibly $2.56, the lower of which is an area where Monday's gap up would be filled.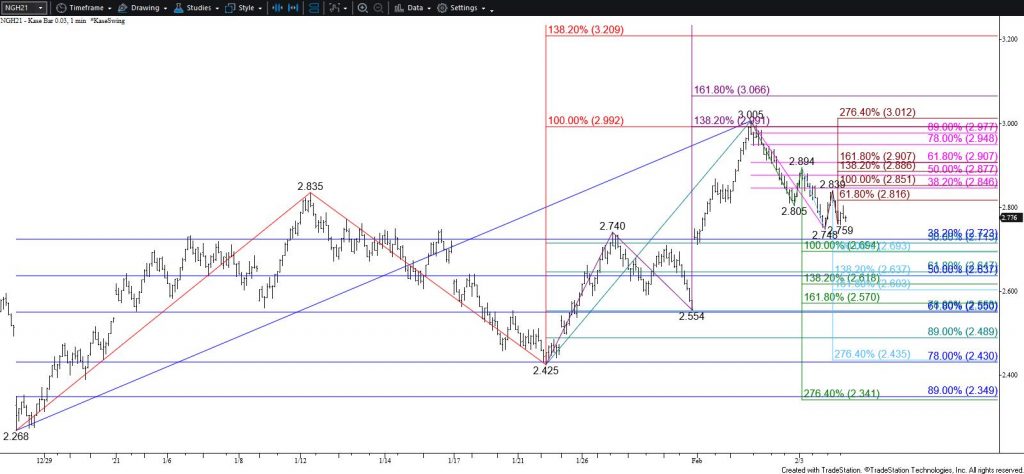 That said, the late move down from $2.839 held the $2.748 swing low and formed a small up wave. Should natural gas overcome $2.82 in early trading tomorrow look for a test of this wave's $2.85 equal to (1.00) target. This is also the 38 percent retracement of the decline from $3.005. Rising above $2.85 will call for $2.91, the larger than (1.618) target and 62 percent retracement. Settling above $2.91 would dampen odds for a deeper test of support and call for $2.99, the barrier to a renewed bullish near-term outlook.
This is a brief analysis for the next day or so. Our weekly Natural Gas Commentary and daily updates are much more detailed and thorough energy price forecasts that cover key natural gas futures contracts, calendar spreads, the UNG ETF, and several electricity contracts. If you are interested in learning more, please sign up for a complimentary four-week trial.