Natural Gas Near-Term Outlook
The overall outlook for natural gas is bullish because the move up from $1.583 looks to be forming a five-wave trend. Wave I fulfilled its $2.30 larger than (1.618) target when prices rose to $2.284. This was likely the top of Wave III and the subsequent move down is forming Wave IV. Today's pseudo hammer suggests the corrective Wave IV may be complete, or at least that it is nearing completion.
Tomorrow, look for a test of $2.21. This is the 62 percent retracement of the decline from $2.284. A close above this would strongly imply that the corrective Wave IV is complete and would call for $2.30 to be challenged again. Settling above $2.30 will confirm that Wave V is underway.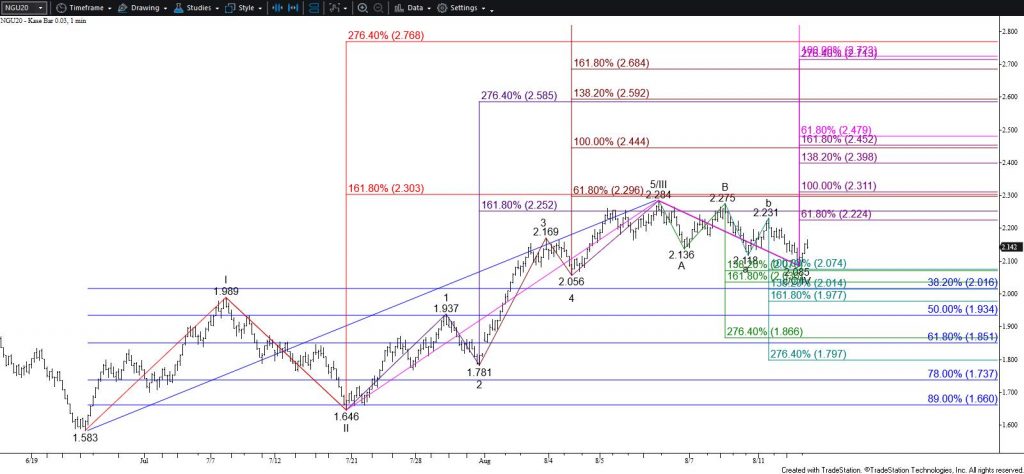 Conversely, based on the wave formation down from $2.284, there is still a reasonable chance for Wave IV to extend to $2.03 before Wave V forms. Should natural gas fall below $2.09 early tomorrow, or hold $2.21 and then take out $2.13, look for the corrective move down to reach $2.03. Support at $2.03 is expected to hold because this is the larger than target of the primary wave down from $2.284 and the 38 percent retracement of the rise from $1.583.
Settling below $2.03 is unlikely. This would imply that the move up is not a five-wave trend but rather a nested three-wave pattern. While this would still be bullish for the long-term, it would delay the likelihood of natural gas rising above $2.30 for at least another next few weeks.
This is a brief analysis for the next day or so. Our weekly Natural Gas Commentary and daily updates are much more detailed and thorough energy price forecasts that cover key natural gas futures contracts, calendar spreads, the UNG ETF, and several electricity contracts. If you are interested in learning more, please sign up for a complimentary four-week trial.