By Dean Rogers
Patience is a virtue.
Natural gas has been trying the patience of traders as it continues to trade in a range between approximately $2.65 and $2.95. This week's rise from $2.706 is very similar to last week's move up from $2.735, and given today's decline and close below $2.80, it looks like another failure to overcome key resistance at $2.89 is taking place…again!
September futures stalled at $2.863, the 62 percent retracement from $2.957 to $2.706. This is also just below $2.892, the 0.618 projection of the wave up from $2.656. The retracements and projections confirm that $2.89 is a key level. A close over this would call for an attempt to overcome $2.95 and break out of the trading range.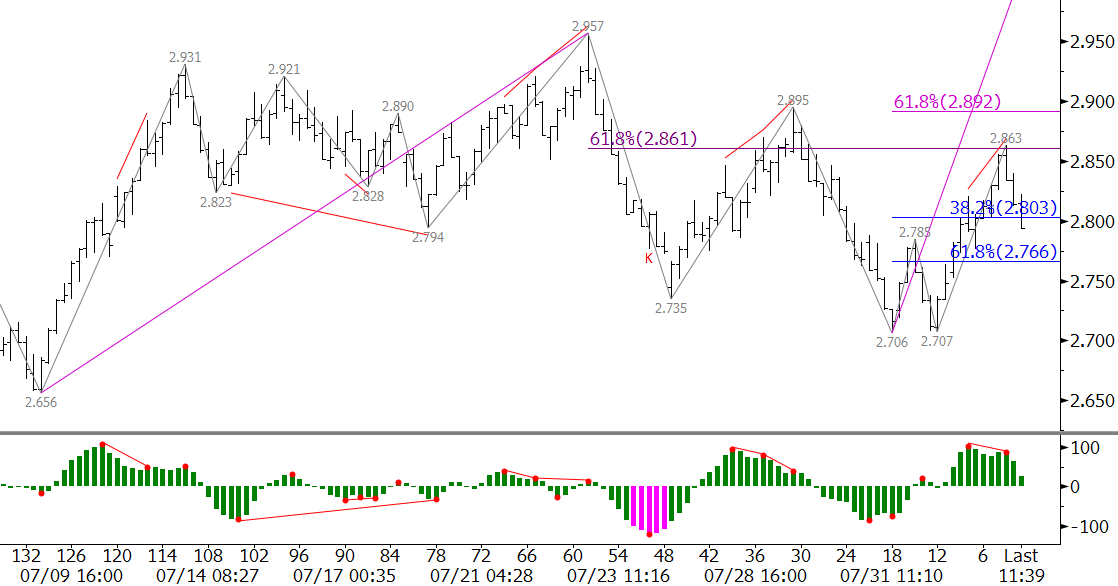 However, the bearish KaseCD divergence and close below $2.80, the 38 percent retracement from $2.706 to $2.863, indicates prices are now positioned to challenge support at $2.77, the 62 percent retracement. A close below $2.77 would then open the way for another attempt of $2.65 and lower.
The take away this week – be patient.
This is a brief natural gas forecast ahead of tomorrow's EIA report. Our weekly Natural Gas Commentary is a much more detailed and thorough analysis. If you are interested in learning more, please sign up for a complimentary four week trial.