Gold Technical Analysis and Near-Term Outlook
The near-term outlook for gold continues to lean bearish, but the call remains tight. Today's initial move up to $1744.8 broke the upper trend line of a coil pattern. However, the move up stalled and the subsequent decline broke the coil's lower trend line before stalling at $1720. This was in line with the equal to (1.00) target of the wave down from $1747, the 38 percent retracement from $1673.3, and the 20-day moving average.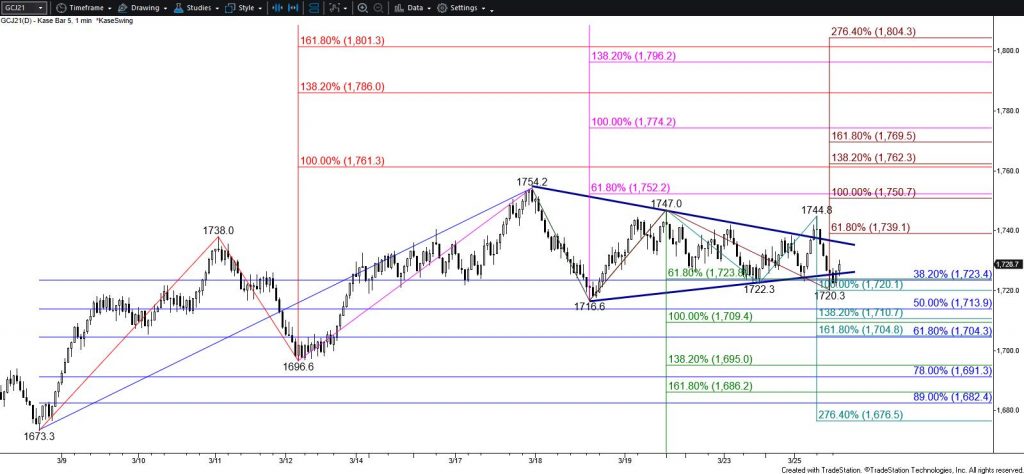 There is little doubt that the move up from $1673.3 is corrective of the larger-scale decline, which still targets $1631. Closing below $1720 will confirm a break lower and call for a test of a crucial target around $1707. Settling below this would strongly imply that the corrective move up is complete and call for a decline to $1684 and lower.
That said, while the $1696.6 swing low holds, the primary wave up from $1673.3 will retain a reasonable chance to reach its $1761 equal to target. Therefore, should gold rally again ahead of the weekend and settle above $1739 a break higher will be confirmed. This will clear the way for $1752 and then $1761. In this case, $1761 is expected to hold. Closing above this will call for a more significant test of resistance before the decline continues as expected.
This is a brief analysis for the next day or so. Our weekly Metals Commentary and daily updates are much more detailed and thorough energy price forecasts that cover key COMEX precious metals futures contracts and LME Non-Ferrous (Base) metals, spot gold, the gold/silver ratio, and gold ETFs. If you are interested in learning more, please sign up for a complimentary four-week trial