Gold Price Forecast
The long-term outlook for gold remains bullish. However, August gold futures formed a double top at yesterday's $1974.9 swing high. Gold had also formed daily high wave candlesticks (or long-legged dojis) earlier in the week that implied the move up was nearing exhaustion. Today's bearish engulfing line, a KCDpeak, and a KasePO PeakOut (confirmed overbought momentum oscillator signals) call for a test of $1929 and likely $1900 before the move up continues.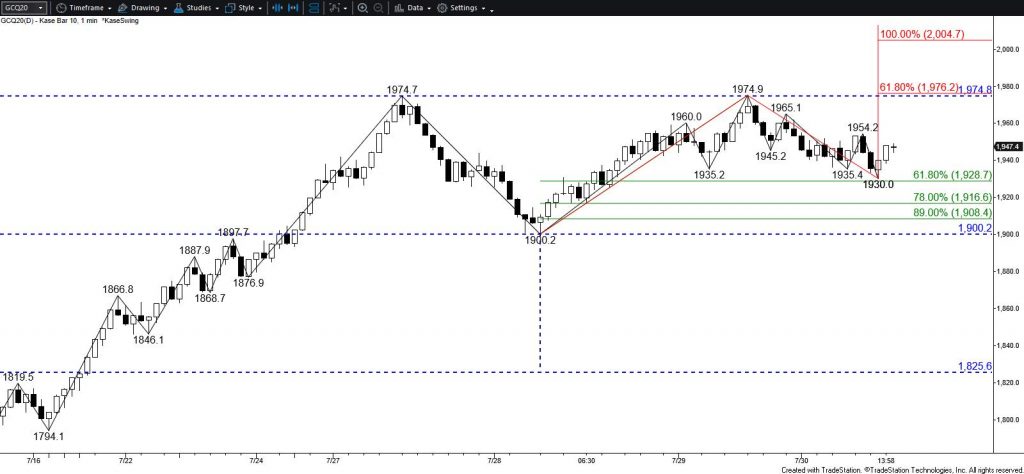 The $1929 objective is the 62 percent retracement of the rise from $1900.2. This target was tested and held today when gold fell to $1930.0. Therefore, it may prove to be strong support.
The $1900 target is in line with the $1900.2 confirmation point of the double top. Settling below $1900 will confirm a larger reversal is underway and would call for a deeper correction to $1859 and possibly to the double top's $1826 target ($1900.2 – ($1974.8 – $1900.2)).
Nonetheless, the move down is most likely corrective because ultimately the larger scale waves, sub-waves, and compound waves up from $1454.8 call for $2003. Should gold hold $1929 and overcome $1958 look for a test of $1976. Closing above this will call for gold to reach $2003 before possibly stalling again.
This is a brief analysis for the next day or so. Our weekly Metals Commentary and daily updates are much more detailed and thorough energy price forecasts that cover key COMEX precious metals futures contracts and LME Non-Ferrous (Base) metals, spot gold, the gold/silver ration, and gold ETFs. If you are interested in learning more, please sign up for a complimentary four-week trial.